Request Medical ID Order Form Displays
Complete the form to request your free display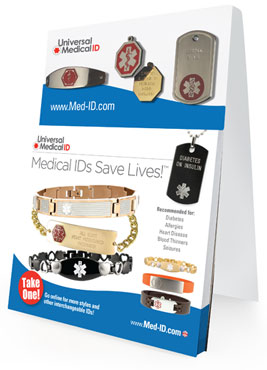 Medical IDs save lives:
An individual wearing a medical ID alert bracelet or necklace will be more likely to receive prompt and appropriate care in an emergency. They help reduce unnecessary emergency room visits and hospital admissions and prevent minor emergencies from escalating. When your patient might be unable to speak for themselves an engraved medical ID bracelet or necklace will speak up for them.

Need a re-stock medical ID or medical alarm displays?
Complete the information form. We'll ship your materials within 5-7 business days at no cost and no shipping charges. Larger clinics or hospitals, please send us a note should you require a larger quantity. In addition, for a health fair or other event, we're happy to donate displays or even a medical ID gift certificate.
Contact our marketing department directly at 1.800.616.3400 or email us.